*Sometimes I use affiliate links in my content. This won't cost you anything and will not harm our mother earth. I just might get some funding to go toward filling my logbook and sharing more with you.
Hello from Maryland! I am enjoying my few days home before I go back to Juniata College. I have completed my internship at Oak Ridge National Laboratory. It was an amazing experience and I am so glad that I was able to go. I learned many new researching skills, added interns and researchers to my network, and now have knowledge about fine roots, peatlands, and image analysis software.
Challenges & Successes
One thing not all my readers may know is that I have Crohn's Disease. Unfortunately, I had a flare during the end of July and I spent one week in the hospital. The picture below perfectly expresses how trapped I felt; I wanted to go outside. I am very lucky to have to coworkers and the community that I do here. I had many visitors, including my mentor. I also was blessed to have so many people at home thinking of me and sending me flowers. I have spent quite some time now on the road to recovery. Luckily, I had already completed all my research, my poster, and just needed to wrap up my technical report. I am grateful that Department of Energy permitted me to complete my internship part time.
On my second day back at the lab, I presented my poster to other interns and researchers in the Environmental Sciences Division. It was exciting to share my research with so many people and to show how much I had accomplished regardless of my setbacks.
On August 9th, I had the opportunity to present my poster for researchers from all of ORNL, graduate recruiters, and other interns. It was really fun to be able to share my research with other scientists and interns. I am glad I felt healthy enough to be able to make it there.
In the future, I am excited to be able to attend the American Geophysical Union Fall Meeting in Washington, DC in December to present my research with my mentor.
Research Results
My internship is now complete (well, when I submit the paper). That being said, I am very excited to finally be able to share the results of my research. If you need to refresh yourself more on the topic than what I am about to share, please go visit my post about Week 1.
I want to start by sharing this video from Department of Energy, highlighting the SPRUCE project as a whole. It is a great video to explain the long term goals of the project.
Above is an image of the poster I presented, which highlights important aspects of my results and conclusions. However, the image would be very small and hard to read if I pasted it here, so I broke it down below.
I have also included my 300-word abstract above the poster. Both convey basically the same thing, but the abstract is more developed content-wise and uses more complex language. The poster was designed as a visual aid for easy and quick reading, but also includes the graphs.
Choose the one that best fits your needs or read both!!
Abstract:
Quantifying fine-root branching response to experimental ecosystem warming utilizing image analysis software
Stephanie Letourneau (Juniata College, Huntingdon, PA 16652)
Avni Malhotra (Oak Ridge National Laboratory, Oak Ridge, TN 37830)
Colleen Iversen (Oak Ridge National Laboratory, Oak Ridge, TN 37830)
Peatlands store large amounts of soil carbon and this carbon is vulnerable to global change. Peatland carbon, if released into the atmosphere, could feedback into global warming via increased atmospheric greenhouse gases. Fine roots are adaptive and integral to biogeochemical processes due to their role in plant nutrient and water acquisition. Thus, the fine-root trait-environment relationships are key to modeling whole-ecosystem responses to climate change. For example, branching intensity (a root trait describing number of branch tips per unit length of root) can adapt to changing moisture and temperature, but the extent and mechanism of root branching in peatlands is unknown. Further, environmental responses of branching relative to other traits, such as root length and diameter, are unclear in peatlands, and can relate to plant resource allocation strategies. We sought to determine (1) if image analysis software (WinRHIZO™) can be used to evaluate branching intensity and (2) whether shrub fine-root branching intensity increases with warming (and associated drying). To address these objectives, we analyzed images of fine roots collected from cores at the "Spruce and Peatland Responses Under Changing Environments" (SPRUCE) experiment. In SPRUCE, ten experimental plots provide temperature and atmospheric CO2 gradients. WinRHIZO™'s tip counts did not correlate with manual counts (R2= 0.56, p<0.001), especially in images with numerous roots. Thus, for objective (2), we manually counted root tips in images. We found no significant relationship between branching intensity and warming in the ambient CO2 plots, indicating that branching may not be the first trait responsive to warming. Rather, fine-root length responded strongly to warming. Conversely, in plots with elevated CO2, branching and temperature correlated strongly and positively (R2=0.84, p =0.03). This result suggests that branching response to warming varies by CO2 concentrations. Our study provides valuable data on root traits for future global climate and peatland models.
Poster:
Results and Discussion

THIS LABEL IS SUPPOSED TO BE ON THE GRAPH ON THE RIGHT:

ρ=0.9, p-value=0.04

(copy and paste does not agree with me)
I would like to thank my mentor Dr. Avni Malhotra and my co-interns for all of the support and encouragement along this journey!!! I learned so much and I had fun while doing it.
Surprise!!
While I was ill, I received an email from Lee Popkin, the director of the John Muir Scholarship from the Sierra Club Catoctin Group. I received the John Muir Scholarship from the club when I was a senior in high school to support my college tuition. I have kept in touch with him and gave him updates on my educational adventures. I am very honored that the club has offered me an additional scholarship to help with my tuition and study abroad in the spring. It is great that the program is evolving to be able to do this! I am very grateful and I am excited they have been so supportive of my journey.
Moving Forward
My next adventure is the beginning of my junior year at Juniata College! I have been looking forward to this semester since I was in high school. I am going to be living and taking all my classes at the Raystown Field Station. This semesters theme is Aquatic Ecology, which will allow me to further study the freshwater ecosystems in Pennsylvania. When I say I am living at the lake, I really mean it. Look how close it is!!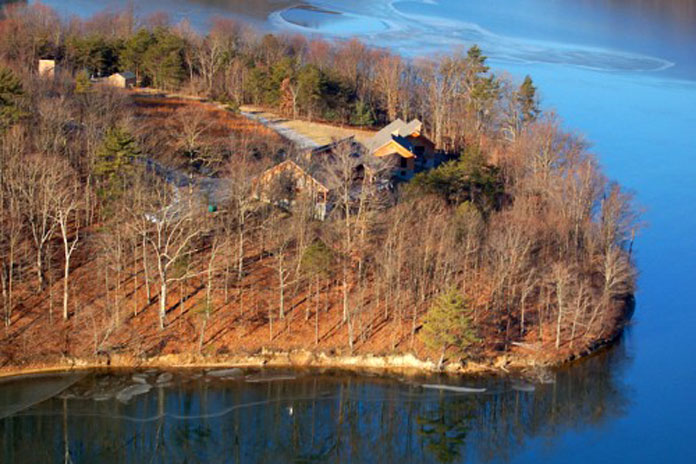 At the field station, classes are divided by days, except Nature Photography, which is an evening course. Here's my course list and descriptions from the schedule.
Limnology: "An ecology/environmental science course covering inland aquatic environments (lakes and streams)."
Aquatic Ecology and Lab: "They will focus one or more special environmental skills, methods, approaches or technologies. In the lecture component of this course, we will focus on concepts and vocabulary central to understanding the science of Ecology as applied to freshwater systems. We will investigate the physical, chemical, and biological aspects of wetlands, streams, rivers, ponds and lakes."
Geographical Information System: "An introduction to a Geographical Information System (GIS), and the course objective is that students gain a basic, partial understanding of GIS concepts, technical issues, and applications using Arc View GIS. It encourages thinking in spatial context. A diverse array of hands-on computer applications and projects are used to understand how geographical data can be analyzed spatially. Students explore analysis techniques in a problem basis learning approach using small team projects."
Sense of Place Seminar: "This is the "cornerstone" of the Sense of Place semester, managed by one faculty, but comprised of a series of modules taught by various faculty and guest speakers. Module topics cover a range of environmental, ecological, and societal issues connecting to the region. Students will be expected to journal their experiences at RFS as well as complete other writing assignments."
Nature Photography: not much of a description exists but you can imagine what this is. Expect many cool photos this fall!
See You Soon!
I am traveling to Juniata August 17th to begin preseason for cheerleading, moving into the field station on the 22nd, then starting courses on the 23rd. I will be driving back to campus for cheerleading practice and games while I am studying and living at the lake. I am very fortunate to be able to enjoy both of these opportunities this fall.